Services
Always professionals
As Nomo Kullager AB is an ISO 9001 and ISO 14001 certified company, you can rely on Nomo as reliable partner through the entire chain, from initial inquiry, through product selection, application analysis and delivery of the product.
Condition monitoring
At Nomo, we offer a range of condition monitoring services, including online monitoring, vibration analysis, and oil analysis, to help our clients optimize their operations and ensure maximum productivity and profitability.
IMANALYTICS
IMAnalytics condition control streamlines your production and maintenance planning. The system is optimized to monitor rotating machines. Different industrial applications and requirements are met in three different alternatives. The functions are tailored to the user´s needs and their individual routines. Troubleshooting should be easy and fast. • User-friendly interface • Automatic alarms • Analyze online
OPTIME
OPTIME from Schaeffler makes permit control simple, cost-effective and highly scalable. So unplanned stops can be reduced. The system consists of wireless, battery-powered vibration sensors, a gateway and a digital service that evaluates data and provides professional analysis. • Easy and fast installation of the sensors • Automatic networking • More points can be added at any time
Industrial service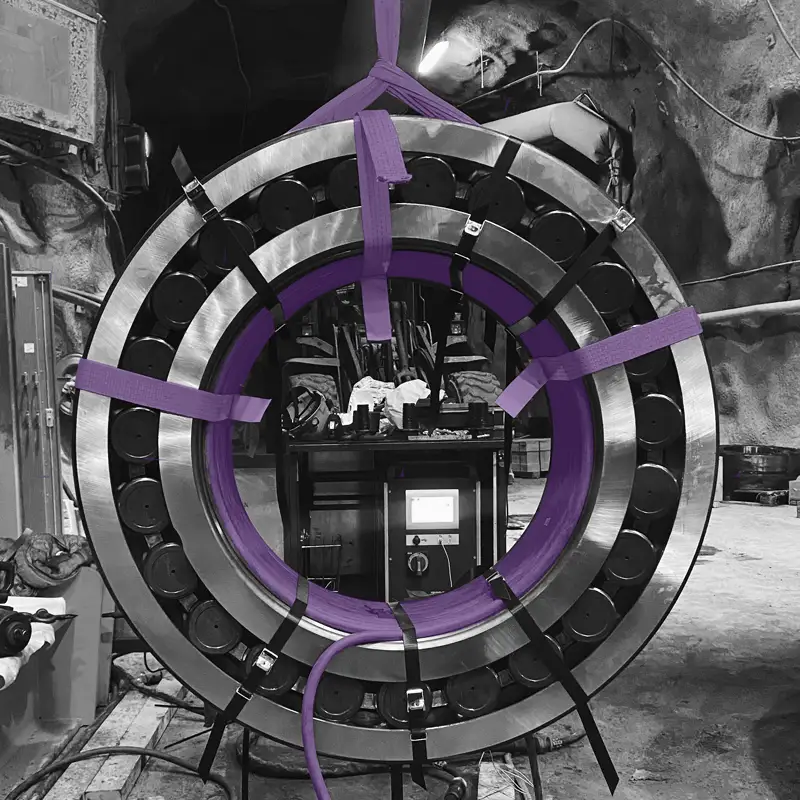 We work in the field with maintenance, service and emergancy repairs primarily for industrial companies. Proactive maintenance reduces both operating and maintenance cost and contributes to less down time in your machinery.
FIELD SERVICES
Hire Nomo Industrial Service for continous service and maintenance and we will help you avoid innecessary stops in your production. We troubleshoot, inspect and repair. After the work has been carried out, an inspection report is submitted. Whether it is scheduled maintenance or urgent repairs, we can assist you with high quality services. Contact Nomo Industrial Service for more information about our services.
SERVICE WORKSHOP
In Nomo Industrial Service´s modern service workshop, service is performed on gearboxes, transmissions, pumps, pump bearings and perform seal changes on industrial machines. Our high technical knowledge is based on both experience and education. Our service technicians are trained and hold ball and roller bearing certification.
Bearing damage analysis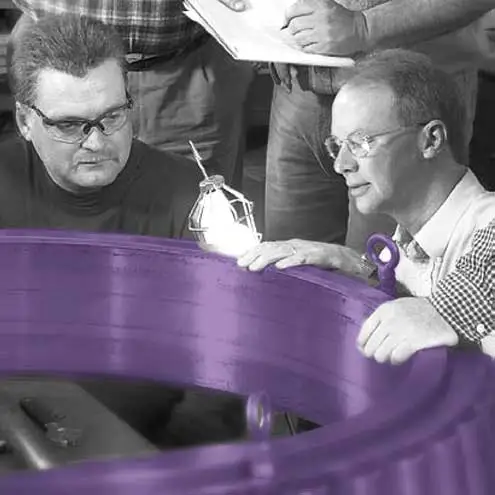 Bearing maintenance and proper analysis are the keys to keeping equipment up and running. Optimizing performance and decreasing downtime.
Our sales, engineering and service teams are trained to assess bearing damage issues onsite and work with customers, performing root cause analysis to identify possible preventive maintenance actions and schedules that improve overall machine performance.
The most common types of bearing damage are often caused by:
• Insufficient maintenance practices
• Mishandling
• Improper installation and adjustment practices
• Inadequate lubrication
Bearing repair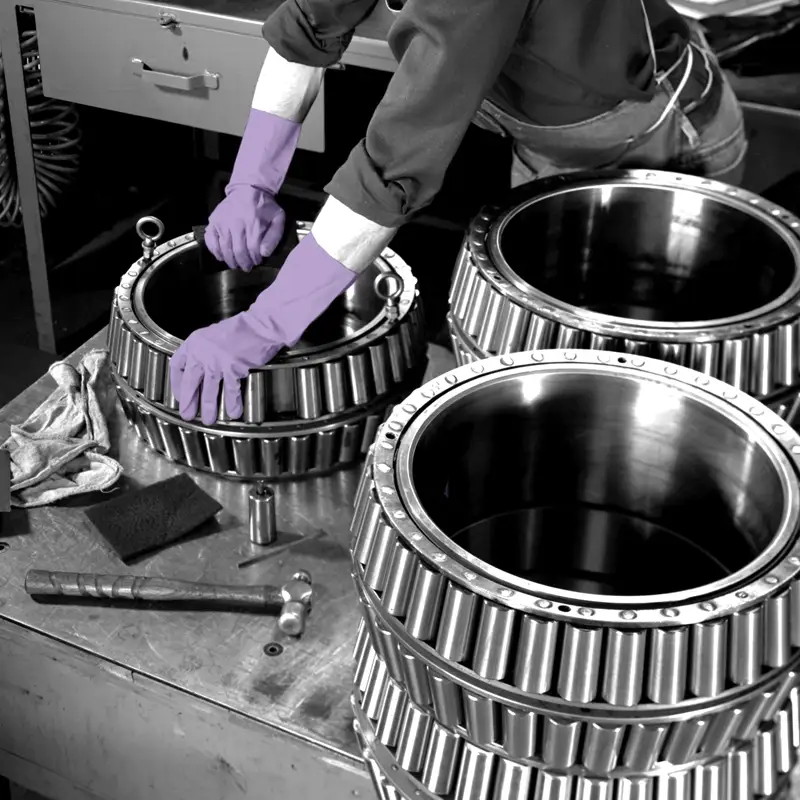 By reconditioning bearings for extended life, we can save you as much as 20 to 90 percent compared to the cost of new bearings. Repairing your large bearings also reduces the environmental impact of your operation. Large bearing remanufacturing is most economical for bearings with a minimum OD of 200 mm.
Together with our partners Nomo can remanufacture most bearing types, including tapered, spherical, cylindrical, ball and thrust - and we accept all manufacturers´ brands for remanufacturing, up to 2,1 meter OD. Bearing reclamation services are ideal for bearings 75mm to 200 mm that are used in large quantities. Our proprietary reclamation process includes thoroughly cleaning and inspecting bearings. We also apply a polishing finish that returns bearings you´d normally throw away back to serviceable condition — for a fraction of the cost.
• We evaluate your bearing condition and provide an inspection report and quotation before remanufacturing begins
• We often can restore used bearings to original specifications in about one-third the time it takes to obtain a new bearing
• Our partners use high quality remanufacturing processes and equipment to restore used bearings to serviceable condition
• Reclaimed bearings are accompanied by a limited one-year warranty
Logistics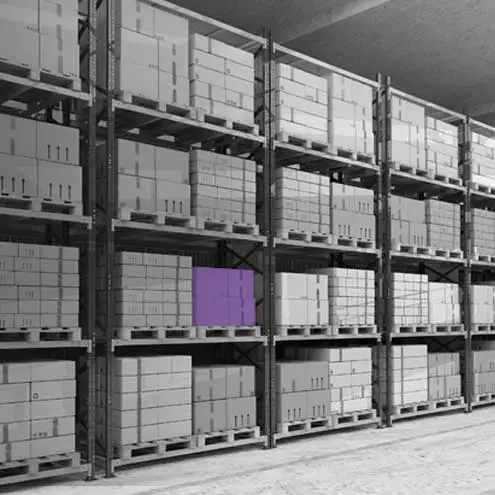 Nomo provides tailor made and cost effective logistical solutions designed for every customer's challenges and needs.
We work continuously to help our customer reduce their inventory cost and shorten their lead times to have a reliable and flexible supply chain. With our central warehouse located in Täby just north of Stockholm, Nomo supplies customers worldwide with a very high delivery precision.
Apart from offering a seamless supply chain in the Nordic countries our experience in export logistics ranging across all continents supports many Nordic based industrial companies operating worldwide.
Customized bearings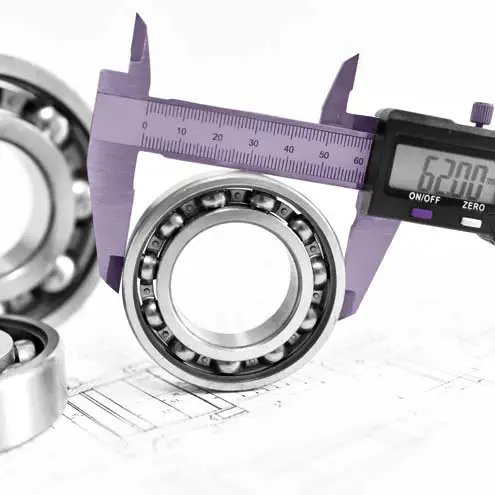 If you need a customized bearing solution then Nomo has extensive experience and a broad base of qualified and approved manufacturers who supply products for your needs.
Together with customers and manufacturers we have developed customized bearing solutions for several applications such as sliding doors, conservatories, shower doors, closet doors, handicap equipment, and material handling. We can offer everything from plastic-coated ball bearings with complete units of injection molded plastic components to zamak or stamped sheet metal parts where the ball bearing is included as a component. Bearings can also be manufactured according to specific requirements of various materials such as stainless steel (AISI 420/440) or brass for environments where corrosion must be avoided.
In addition to customized bearings, we also offer a standard range of bearings entirely made of plastic or coated with layers of various plastics and polymer materials. Furthermore we offer bearings made of stainless steel from leading manufacturers in the mid-range segment.
Training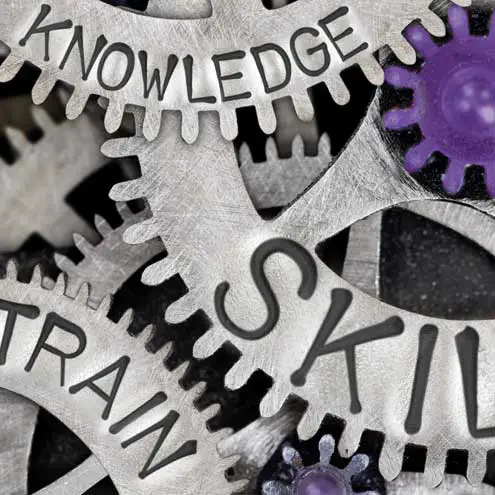 If you are an engineer seeking assistance with selecting the appropriate materials or components or a maintenance professional interested in getting the maximum uptime and performance from your equipment, Nomo can help.
Properly maintained, the bearings will extend the operating life and boost equipment performance. Without proper maintenance, you can expect breakdowns and loss of production. Nomo has the in-depth specialist knowledge of what needs to be done to optimize the life and performance of bearings in many types of equipment and vehicles.
Our training will provide you with the fundamentals of anti-friction bearings, giving you the basics of how they operate and what you need to do to ensure maximum bearing life. We also offer specific training in several industries where bearings play an especially crucial role, and where Nomo has special expertise.
We offer a variety of training resources, including training that can be tailored to your audience depending on their professional roles and delivered at your site. We have a network of friction management and power transmissions experts across the Nordics who can be called on to provide their expertise.
Product design, engineering & CAD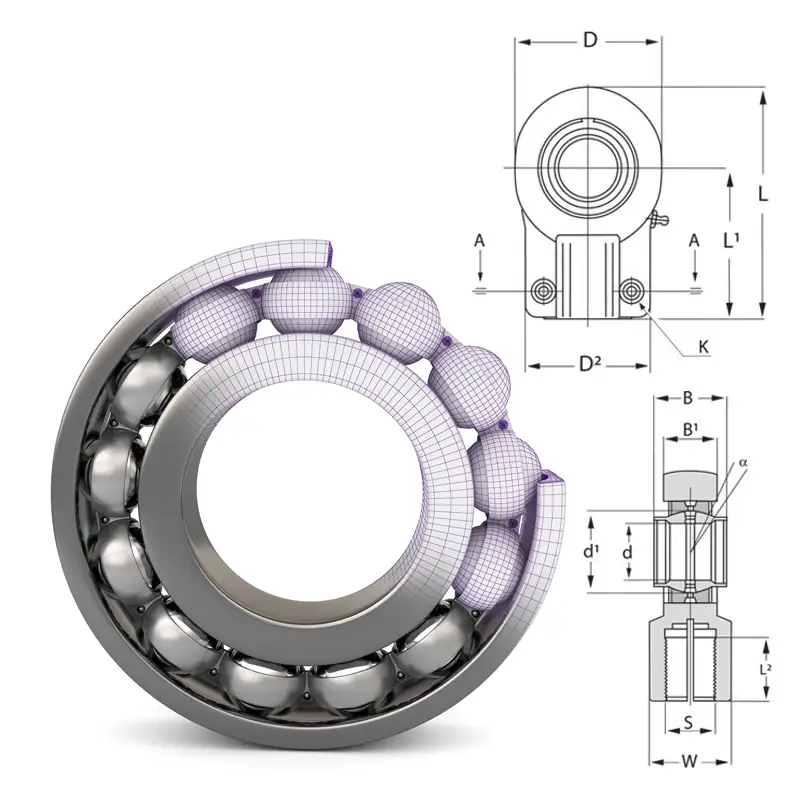 Nomo works together with our customers and manufacturing partners to achieve the highest product quality and outstanding system performance. Utilizing our experience in bearing technology, application and process knowledge, we provide our customers with smart, cost-effective friction management and power transmission solutions that improve total system performance and help outperform the competition.
We work with customers to apply the right products for the right application. Our solutions are designed to improve reliability and performance while helping to increase productivity and reduce cost of ownership. To optimize performance, we address the complete system, not just individual components.
Our overall mission is to improve the competitiveness for the Nordic industry.
Contact Nomo´s engineering team, no matter how small or big your challenge is!
Drawings in SolidComponents >>
Documented cost savings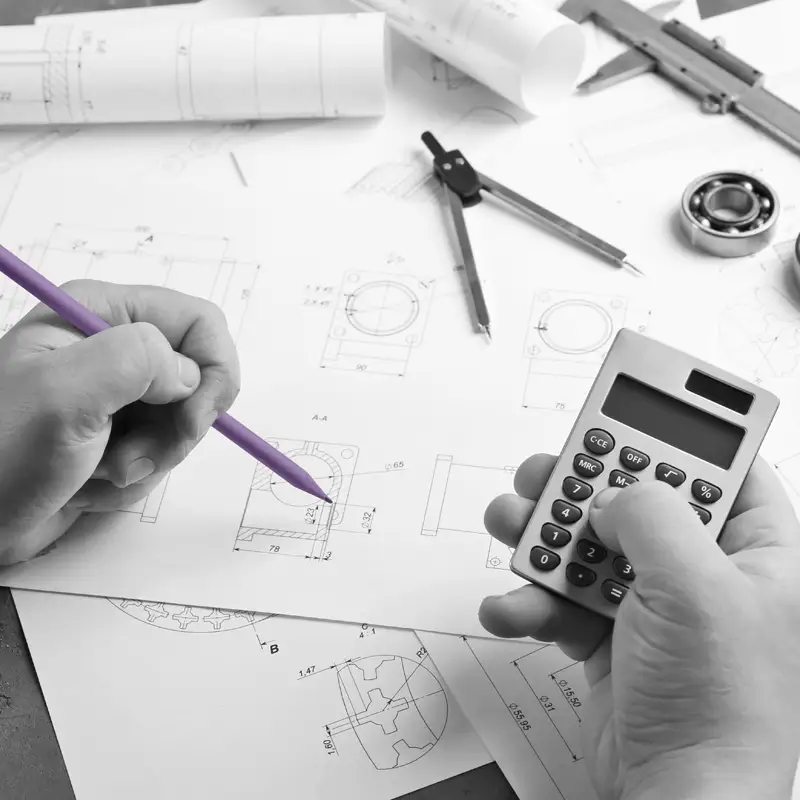 Nomo applies a total cost of ownership approach and we have over 70 years of experience in the bearing and power transmission industry.
As we strive towards our overall mission to improve the competitiveness of Nordic industry, we do so by documenting savings generated together with our customers. The documented cost savings service from Nomo is based around six cornerstone areas.
• Acquisition cost reduction and administration streamlining
• Component recycling
• Increased total productivity actions
• Break down analysis and corrective action planning
• Minimization of unplanned down time
• Working capital optimization

Contact your sales representative to learn more about how we can help to improve your competitiveness!
contact us
Any questions welcome
Contact us and we will respond you as soon as possible